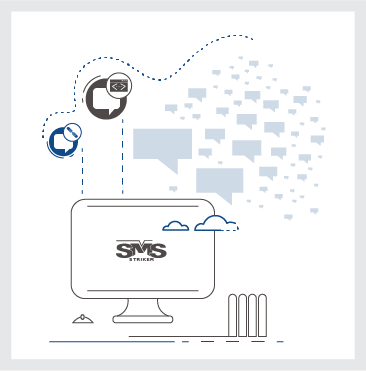 Bulk SMS Service
SMS is a simple service using which companies can send Bulk SMS to their large clientele and prospective client base. Bulk SMS is an easy, fast and economical offering, which makes it possible for companies to reach out to multiple customers at one time. Sending a standard or customized message to the database is the fundamental working principle of the service. The level of customization can be configured as per the requirement. It has quick visibility, ease of spreading message and trusted operations make Bulk SMS, a favoured mode of communication for all businesses, vendors and entities.
Bulk SMS service is extremely flexible and widely used by all types of businesses to convey promotional information and status updates to customers and by government bodies to broadcast messages of public interest.
For instance, financial organizations such as banks, insurance agencies etc., use Bulk SMS to convey the OTP and other secured related information to their customers. E-commerce companies use Bulk SMS to update buyers on their orders and transactions. Offline stores use Bulk SMS for promotions and loyalty program management.
Bulk SMS has endless possibilities and submissions which can be customized to the need of the organizations. SMS Striker extend the support in India and International for sending messages via Transactional and Promotional routes.